MOVE 4 TOLERANCE
This project will help young people to develop a tolerant attitude, to respect the multiculturalism in Europe. In this way, young participants should feel part of the European territory, and support people from other countries and people with special needs respecting their gender, religion, culture, and helping with social, physical and mental problems. Another thing we want to develop is the ability to reflect about the race and gender issues, so later these young people can make the right attitude when confronted with a real situation.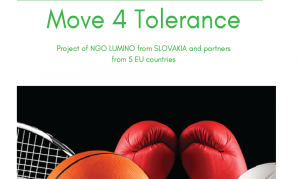 During all the project, participants will perform sports and educational activities, and develop their sense of initiative, organization and leadership skills. We must not forget that the project is not about the sports, however it is used to take participants to learn other skills. Sports are very well accepted by young people, and we hope that we can have a good interconnection between sports and the theme Tolerance.
Youth Exchange "Move 4 tolerance" will take place in Modra close to Bratislava in Slovakia, complex with playgrounds and sport equipments and possibilities to implement activities which we are planning for this project.
More Info and application form here:
https://docs.google.com/forms/d/e/1FAIpQLSeBDJ4V4x9s0Ear4j94rGa8EyzVKcIR9ugWCH_fv0pruTs60Q/viewform